05.08.2017 | Category, News
It's the most exciting time of the month!
Our monthly fair starts from 5/12 (Fri) to 5/21 (Sun).
This month, we are featuring Kansai and Shikoku regions.
The areas surrounding the Setonaikai Sea are blessed with wealthy seafood.
Enjoy the delightful fruits of the sea!
=Quantities are limited=
All sushi plates $2.25 ($2.50 at San Diego & Cupertino)
*Date Bluefin Tuna (1pc)
*Date Bluefin Toro (1pc)
*Premium Yellowtail (2pcs)
*Wild Sea Bass (2pcs)
*Squid with Plum Sauce (2pcs)
*Bara Chirashi Ojyu ($6.80)
*Crispy Chicken Cold Udon ($5.80)
*Kyoto Matcha Ice Cream ($3.20)
*Vanilla Ice Cream with Yuzu Sauce ($3.20)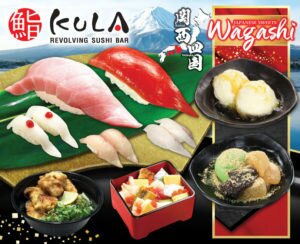 ※New system is not available at Rancho Cucamonga.
※Fair items are not available at Austin.
※Sorry, we do not take reservations.